2016/2017 Officers
Worshipful Master:
Stephen J. Boinski
Senior Warden:
Joseph G. Alsman
Junior Warden:
Steven A. Mackley
Treasurer:
Worshipful Brother Roy N. Thomas
Secretary:
Worshipful Brother Robert W. Spence
Chaplain:
Brendon L. Akins
Marshal:
Joseph A. Cornelius
Senior Deacon:
James R. Wright
Junior Deacon:
Brian F. Doyle
Senior Steward:
Kevin G. Malish
Junior Steward:
Jordan S. Presnell
Masonic Home Rep:
Joseph G. Alsman
Musician:
Kenneth L. Davis
Webmaster:
Worshipful Brother Antonio M. DeLaCruz
summit263@gmail.com
Missouri Freemason and Summit Lodge #263 History:
Freemasonry started in Missouri in 1821 with the charter of the Missouri State Grand Lodge on April 21st in Columbia Missouri.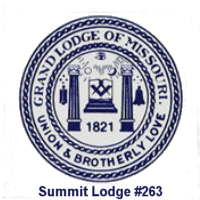 Summit Lodge #263 was charted on October 30th, 1870.  Originally located in downtown Lee's Summit, MO; Summit Lodge #263 moved to it's current location at 2409 S.W. M291 Highway, Lee's Summit, Missouri 64082 in 1999. 
Although Freemasonry is a fraternity for men, it does not mean that families cannot participate.  There are many activities that we hold where the wives and family members can participate.  Some activities include dinners, picnics, and community service functions.  As well, there are organizations within the fraternity for women and youth.  Only the business meetings, special meetings, and degree ceremonies are limited to men.  The purpose of Freemasonry is learning and charity.  It is mainly concerned with the self-development of men.  Be sure to visit the links section (at the bottom of the page) to find out more about Freemasonry in general, Freemasonry in Missouri, and the other organizations within the Masonic family.
Rental Information
The Lodge has a banquet room for rent for wedding receptions, dinners, meetings or parties. Will seat up to 200 people, tables and chairs, flattering ballroom lighting, fully equipped kitchen, prepare food yourself or bring an outside caterer. Free on-site parking. For more information or available dates call David Atterberry at (816) 527-7037 or via e-mail at d1v2atterberry@gmail.com.
The following organizations meet regularly in this facility:
Summit Lodge No. 263, Ancient Free and Accepted Masons, meets at 7:30 PM on the 1st and 3rd Tuesdays of each month.
Summit Chapter #101, Order of the Eastern Star, meets on the 2nd and 4th Tuesdays of each month (except July and August) at 7:30 P.M.
Keystone Conclave #25, Order Of True Kindred, meets on the 2nd and 4th Wednesdays of each month at 7:30 P.M.
Missouri International Order of the Rainbow for Girls Chapter #26, meets on the 2nd and 4th Mondays of each month at 7:00 P.M.
Past Masters Now Living
Robert D. Buchanan - 2018
William R. Jennens - 2017
Paul S. Rader - 2016
Antonio M. DeLaCruz - 2015
William M. Loehr - 2014
Frank L. Davis - 2013
Scott A Filkins - 2012
Kirby D Vanatta - 2011
James C Clark - 2010
Charles B Dustin - 2008
Lyle K Croisant - 2007
Ronald M Berg - 2006
Robert W Spence - 2004
Robert W Spence - 2003
Harry C Geagan - 2002
Thomas L Krahenbuhl - 2001
Mark W Jacobs - 2000
William K Hulse - 1999
John C Schlechter - 1998
Thomas L Krahenbuhl - 1997
Shane A McCray - 1996
Mark W Jacobs - 1994
Hershell Spurlock - 1992
Harry E Bolon - 1991
Gary J Montgomery - 1989
Kenneth M Williams - 1988
Gregory W Green - 1986
Harry C Geagan - 1985
W John Weight - 1984
Kenneth L Davis - 1983
Ralph S Cantrell, Jr - 1982
Kenneth L Barr - 1979
James A Smith - 1978
Thayne H Steyer - 1975
George W Turner - 1970